Namajer somoy suchi 2020 Bangladesh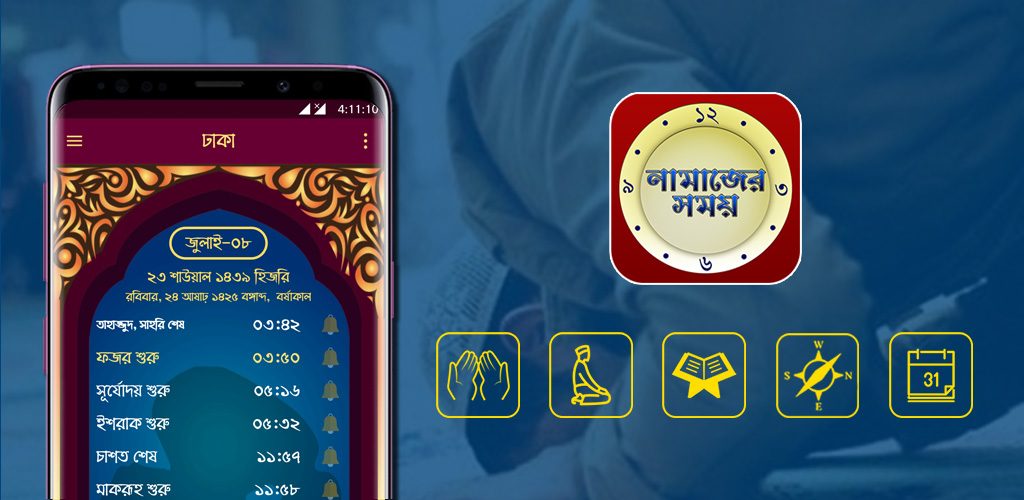 Namajer Somoy ( Prayer Time ) is a popular islamic app among muslims around the world. It provides various informations and handy tools like Salat time, Quran, Qibla Compass, Dua, Hijri date, Books, Tasbih, important days for different locations and languages.
Prayer Time:-
– The app produces Salat time / Namazer Somoy suchi for 1000+ locations covering more than 70 countries offline.
– It shows 5 wakt time fajar, dhuhr, asr, magrib, esha. Moreover nofol namaj like tahajjud, israq, chast, awabin along with makruh, sunrise, sunset time is shown.
– Whole year time table.
– Set alarm for any prayer.
Tasbih:-
– Count your zikr. Don't forget to Dhikr daily. Pre-defined tasbeeh and customisable wajifa. Choose your template.
Qibla Compass:-
– Illustrates direction to Baitulla / kaaba from your location to take prayer / salat.
Supported Languages:-
41 languages including Amharic, Bangla, English, French, Spanish, German, Somali, Hindi, Urdu, Farsi, Russian, Chinese, Uzbek, Uyghur, Turkish, Thai, Tamil, Tatar, Tajik etc.
TopOfStack Software provides Bangla Islamic App