The Complex Relationship Between Content Marketing & SEO
Content Marketing and SEO are two distinctive but corresponding marketing approaches and can be a massively effective combination when implemented efficiently. Both are complex subjects and extremely worthwhile / valuable strategies in their own right. But to truly receive the benefits of one technique, it is certainly beneficial to have a strong grasp of the other, in order to align a better performing campaign.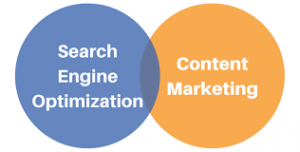 DEFINITION 
Content Marketing: 
Content marketing is a strategy which is all about creating and distributing appealing, informative and relevant content that is entertaining and helpful for customers and prospects.
The main purpose of content marketing is to compliment your existing digital marketing strategy and expose your business. Content can be produced in all kinds of shapes, sizes, formats, styles and creative ways with multiple intentions and end goals.
The overall concept is essentially attaching your company's ownership to something which is tangibly shareable and engaging. This has the power to alert, fascinate and encourage your targeted audience into an action or psychological process.
Your content should be planned and built around a whole strategy which intends to align the content with an outreach plan and to target the appropriate entrance level of your funnel.
This creates a solid foundation for prospects to eventually filter through and consent to view and possibly (hopefully) purchase your products or service.
Your content should be very much convincing, respectable, high quality and should contain relevant information for the target audience because that's what is going to convert into physical results.
SEO: 
SEO – an abbreviation of Search Engine Optimization, is a powerful marketing technique which is ultimately applied to improve one's website visibility in a web search engine, taking advantage of the search analytical insights and opportunities.
It is a longer-term strategy requiring patience and it incorporates a wide variety of technical skills to combine and achieve ultimate synergy, cohesion and worthwhile results –
● Keyword (opportunity) research
● Content creation
● Coding
● Web design
● Outreach
The main task of this technique is to improve the rank of the particular website for a certain search query. The results of which can be natural, organic or earned. Some of these are intelligently maneuvered and worked for whereas there are some paid too.
Ranking for the keywords which your potential customers are searching for and capitalizing on these opportunities by positioning above others and showcasing a greater authority and trust value.
BENEFITS 
Content Marketing 
● Drive traffic to your website directly which later results in lead generation opportunities.
● Publishing high quality content on a regular basis enhances your brand image.
● Increases your website's credibility and visibility.
● Can assist in capturing of email addresses for further usage.
● Addressing your content on current and controversial topics help you reach out more customers.
● It helps you develop long lasting relationship with customers as you create content which provides a customer service element.
● It can offer a competitive advantage – allows you to have a platform to differentiate from your competitors and add value.
SEO 
● When your website ranks higher in the search engine then you are logically going to have larger number of traffic on your website due to greater impressions and exposure.
● You have more chances of converting those click into a sale which will in return lead to a better ROI.
● It is very cost effective. Once you rank highly for the relevant search queries, you don't need to pay-per-click. Due to natural or say organic listings, it's absolutely free.
● Practical value – automatically collected within the search engines and saves you the time of manual distribution.
● Finding a website on the top of the Google list, one assumes it to be the most reputable brand or website and yes, it is in terms of the Internet's understanding.
● It helps you build relationships and gives you a level of domain authority and the leverage that comes with it.
How Are Content Marketing And SEO Related? 
There is a natural relationship between content marketing and search engine optimization:
● SEO is a tool used by content marketers to expose their content and drive greater traffic.
● Content is a prerequisite of SEO strategy. With the level of quality being a variable. But better quality content enables the performance to be enhanced.
Content marketing will exist and can work without an SEO strategy though the following ways: 
– Effective email subscription pipeline
– Social media audience
– Social tools or paid promoting
– Influencers
– Shared communities
– Featured
– Guest posting
If you can distribute your content accordingly, depending on its purpose, you won't need to rely on SEO primarily, or in isolation. Or it might not be the type of content which naturally suits a search engine term or keyword at either end of the funnel – too competitive or alternatively not searched enough.
MangoMatter, is a full-service web agency that also tests and reviews themes, web hosts, WordPress plugins, and much more. MangoMatter is the best web hosting service for Australia.
They provide quality web hosting providers, and equipped with the latest in web technology, mobile-first design, SEO-optimised, and more…