Muslim Plus – Ramadan 2021
Muslim+ is one of the top popular Muslim apps. It's very necessary for Muslims all over the world.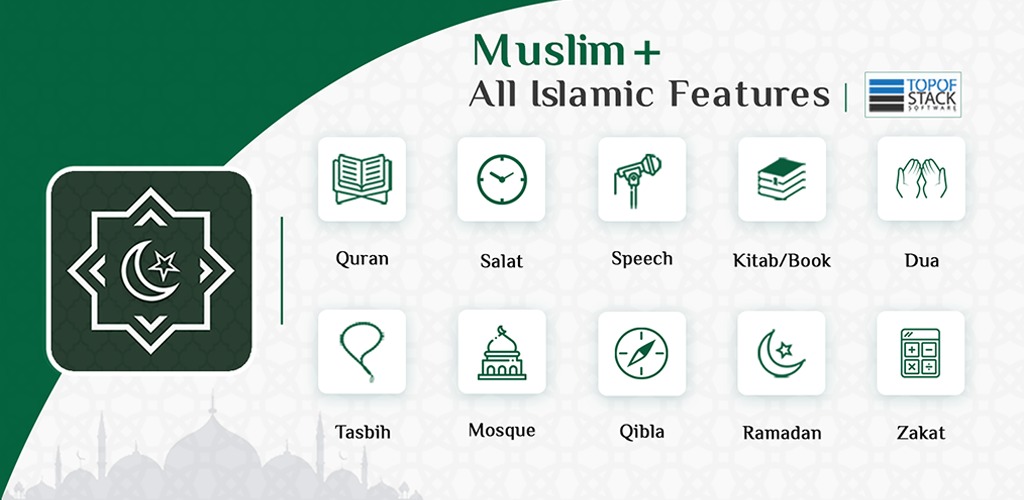 Muslims around the world use the app for most accurate prayer time with Qibla direction and Quran with native translation, Arabic scripts and audio recitation. This is the best Islamic app for religious muslims. Muslim+ app which can be used as all in one as it contains Al Quran, Prayer Times, Supplication, Qibla compass, Tasbih, Duas and also Islamic Hijri calendar along with Important days.
MAIN FEATURES:
• Accurate prayer times based on your current location offline.
• Fasting times (Imsak / Sahri and Iftar) during Ramadan.
• The Holy Quran (Al Qur'an) with audio recitations (mp3), phonetics and translations.
• Tasbih to count your dhikr/ Zikir.
• Animated Qibla compass and map to show you the direction to Mecca.
• Complete Muslim Hijri calendar to estimate holy dates such as Eid-Ul-Fitr and Eid-Ul-Adha.
• Hisn'ul Muslim (Fortress of the Muslim): a collection of doas and supplications)
• App and Quran fully translated to your native language.
Feature details:
Al Quran:
– Read Complete Quran Majeed 114 Surah and 30 para part by part.
– Listen Holy Quran Ayat in Arabic Audio with 4 Quran Reciter.
Prayer Times (Salat Times):
– Shows Muslim Prayer Times: Fajr, Sunrise, Dhuhr, Asr, Sunset, Maghrib, Isha, Israq, chast, Iftar and Sahri.
-The most accurate prayer timings all over the world in offline and you can set alarm.
Supplication:
– Shows supplication about death, house, eating, Toilet, sleep, Tour, Socialization, Marriage, Decor, Affliction, Danger, Thunderstorms, Durood, Istighfar, Rabbana, Mosjid, Salat Eid, Hajj, Ramadan, Surah, Special Salat and others.
– Don't forget to read Dua's daily, you can see in both Arabic and your language.
Qibla Compass:
Find the accurate Qibla direction Finder from the compass.
-Qibla direction app shows you where the Qibla is, even in an offline mode with the help of its compass feature.
– Find Kaba/Mecca Direction from the any part of the world.
Tasbih:
-Very useful tool when you want to recite Names of Allah or Tasbih.
-Keep tracking of Tasbih count and also calculate how many times and when you recited names of Allah.
Important Days:
-Useful for Muslim countries to show their holidays and important days.
– App has Islamic Calendar, so that You'll be seeing Ramadan Timetable and all Islamic holidays like Eid ul Fitr, Eid Al Adha, Hajj etc.
Language:
– Quran translation is now available in 41 languages: Albanian, Amharic, Azerbaijani, Amazigh, Bangla, Bosnian, Bulgarian, Chinese, Czech, Dutch, English, Farsi, French, German, Hausa, Hindi, Indonesian, Italian, Korean, Kurdish, Malay, Malayalam, Maldivian, Norwegian Bokmål, Polish, Portuguese, Romanian, Russian, Sindhi, Somali, Swahili, Swedish, Tajik, Tamil, Tatar, Thai, Turkish, Urdu, Uyghur and Uzbek.
Other Features:
1. Sura / Para-based search
2. Topic-based search
3. Hafizi-Quran and Surah List
4. Favorite Verses Audio
A) Abdullah Ali-Jabir
B) Abdur Rahman As-Sudais
C) Maher al-Muaiqly
D) Mishary Rashid Alafasy
5. Verse bookmark, share