Prayer Times – Quran, Hadith, Qibla, Islamic Books, Tasbih
Prayer Time- Tafsir of Al-Quran – Islamic Book – Bayan – Hadith app is very useful for all Bengali speaking Muslim brothers and sisters and can be kept on their mobile.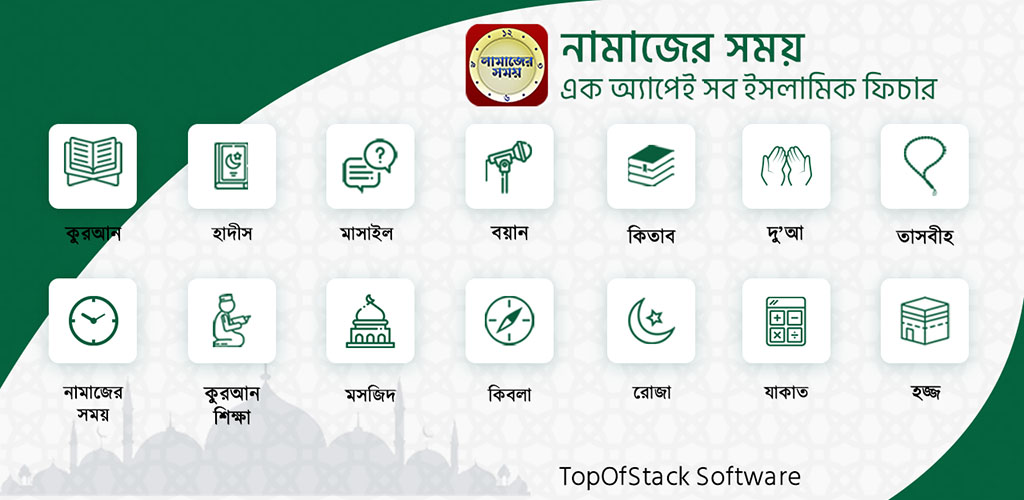 The Prayer Time (Namajer Somoy) app is very popular in Bangladesh, India, Europe and America which gives you the correct schedule of prayers(salat) for Muslims in major cities of the world. This app also provides a permanent timetable of five prayers(salat) and a permanent calendar of prayers(salat) for each district of Bangladesh.
Feature list of this app at a glance,
• Prayer time (Alarm, Iftari, Sehri, Tahajjud, Sunrise, Sunset)
• Offline Quran with Meaning (Authentic Bengali Tafsir, Subject Based Search)
• Reading Quran (Hafizi Quran, Noorani Calcutta Print, Madani Print, ColoredPrint, Bookmark, Landscape Mode, Night Mode)
• Quran Audios (Beautiful Audio Recitation of Surah / Verses of Al Quran with Bengali Translation. Famous Reciters from Baitullah and Masjid Al-Nabawi including Abdullah Ali-Jaber, Abdur Rahman As-Sudais, Maher Al Mueaqly, Mishari Rashid Al-Afasi, Saud Al-Shuraim etc.)
• Bayan / Waz (Bengali, Urdu and English Bayan by local and foreign leading Islamic Scholars)
• Dua (Audio Recitation of Authentic Masnoon Dua, Zikir and Durood withHadith Reference)
• Islamic Books (Authentic Tafsir of Al-Quran, Islamic History Novel Book, Madani and Darse Nezami Books of Qawmi Madrasa, Book of Sihah Sittah Hadith)
• Zakat Calculator
• Quran Learning Book (Learn Quran in 27 hours, learning the correct pronunciation of the Arabic alphabet in the Noorani method and reading the Quran by spelling)
• Tasbeeh Counter (Digital Tasbeeh with Tasbeeh-e-Fatemi)
• Qibla Compass
• Hadith (Bukhari, Tirmidhi, Muslim, Nasai, Abu Dawood, Ibn Majah, Musnad-e-Ahmad, Muwatta Imam Malik)
• Learning Prayer (Differences between prayers of male and female, Ablution, Azan, Mosque, Surah, Special prayers, Istinja, Bath, Tayammum, Obligatory Prayers)
• Bengali and Hijri Calendar