50 Best Computer Related Small Business ideas for 2018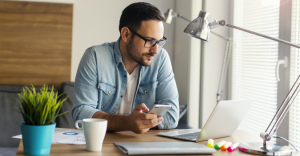 1. Web Designer: A website is like a person's home on the internet and as the internet has continued to become more popular, the need for individuals and businesses to 'build their own homes' on the internet has also increased.
You can make a lot of money from designing websites for people. One interesting thing about this type of business is that you can get clients from anywhere in the world to patronize you regardless of your location.
2. App Developer: There are a lot of applications and software that help to improve the experience of computer and mobile phone users. Developers who are able to design the best and most useful apps have continued to rake in impressive amounts of money and you can join the list too.
3. Tech Support Call Center: A lot of organizations find it difficult and expensive to run their own support call center and prefer to outsource to third-party organizations that already have the equipment and technical know-how to run call centers so that they can cut back on costs.
You can consider setting up one of such technical support call centers and make money from rendering call center services to different organizations.
4. Software Programmer: Software programmers are in high demand nowadays due to the increase in the number of software developers. You can become a freelance software programmer or you can set up a firm that employs other programmers and help software developers handle their programming tasks.
5. Technical Writer: Manufacturers of electronics and technical products like televisions, refrigerators, mobile phones and even computers, often require the services of technical writers to write product manuals, instruction booklets and other relevant materials for their products.
6. Database Manager: Another lucrative business idea is to become a database developer or manager who helps businesses create databases for their business.
7. Software Quality Assurance Professional: Software quality assurance professionals help to check the methods and engineering processes that were used to develop a software so as to ensure that they are of the best quality. This is another business opportunity that feeds off the increasing popularity and prevalence of computers and software.
8. Web Community Manager: You could make money from creating an online community or forum such as the Warrior Forum or the Bodybuilding Forum. If your forum becomes very popular and has many members, a lot of businesses would pay you to advertise their products.
9. Social Network Developer: We all know Mark Zuckerberg and how he became very famous and rich from creating the most popular social network in the world. There are still a lot of untapped social network ideas that you can tap into and make money.
10. Computer Cleaning Service: Many people are clueless about how to get rid of dirt, dust and particles from their computers and these things have been known to damage computers. You can set up a business that helps people get rid of dirt from their computers using some special tools and techniques such as the computer vacuum cleaner. You can also make a lot of money from selling the accessories to other people so that they can DIY their computer cleaning tasks.
11. Computer Training Service Provider: Sure, there are millions of people who know how to operate computers but do you know that there are still millions of people who don't know the first things about operating computers? There are also kids and teenagers who are only just learning how to operate computers.
You can set up a computer training center and make money from training these categories of people.
12. Computer Store Operator: Almost everyone has a computer these days and that is why selling computer accessories, software and other computer-related items is good business.
13. Data Recovery Service Provider: Computers can sometimes malfunction, leaving their owners stranded because they have very important information in them. Data recovery service providers specialize in helping people who have somehow lost their data to damaged computers or computer storage devices, to get back their lost data.
14. Online Marketing Consultant: Like I mentioned earlier, brick and mortar stores are fast getting replaced by online stores and a lot of people with traditional stores have had to open an online branch of their store so as to increase their reach and consequently, their sales.
The business opportunity here lies in the fact that most people are still novices when it comes to setting up a lucrative online business and they usually need to hire consultants to show them the ropes.
15. Smartphone Repair Service Provider: You would agree with me that smartphones are like mini computers. The technologies for repairing smartphones are very different from those of other types of phones. Setting up a niche phone repair service that specifically deals in smartphone repairs is a very great idea.
16. Wi-Fi Café Operator: Some people need access to the internet when they are on the move sometimes or when they cannot afford to pay for internet subscriptions. They would prefer to pay and use internet on a needs-basis. You can consider setting up such a service that sells Wi-Fi services to people cheaply.
17. Tech Magazine Publisher: Magazine publishing is a lucrative business no doubt, but you can opt for a relatively untapped niche where you get to publish magazines that discuss technology and technical issues especially computer technology which almost everyone is interested in these days.
18. Social Media Influencer: Social media influencers are people with very large following on popular social media websites like Facebook, Instagram, Youtube, Snapchat and so on. Businesses pay them impressive sums of money to advertise and promote their products and services and they also get free gifts too.
19. 3D Printer: 3D prints are used across industries these days. They are used in the engineering industry, fashion industry as well as the manufacturing industry, to mention few. You can consider setting up a business that specializes in offering 3D design and printing services to clients.
20. IT Consultant: Another lucrative opportunity to explore is to become an information technology consultant who offers advice, direction and guidance to businesses and individuals on all information technology issues.
21. Computer Repair Service: Computer repair is another lucrative business. You can offer your services to business and private individuals alike. Some businesses would even place you on a retainer so that they can easily repair any malfunctioning computer in their organization speedily, and prevent it from affecting the smooth running of their business.
22. Software Developer: Research some problems that people have with their computers and use it to come up with software ideas that you can develop and make money from.
23. Software Engineer: Offering software engineering services to software developers and computer manufacturing or developing services is another lucrative business opportunity that you can explore.
24. System Analyst: You can also become a system analyst who helps to solve computer software and hardware problems.
25. Cloud Service Provider: We are rapidly moving towards a society where people no longer store their data on their computers or storage devices for fear of data theft, loss, hacking and insufficient storage space and they would rather have it stored remotely where they can always have access to it. You can make a lot of money from offering cloud storage services in today's world.
26. UX Service Provider: Another lucrative computer-related business idea is to become a Computer User Experience and User Interface Designer also known as a UX Service provider. Your job would be to ensure the best computer, software and website experience for all your clients.
27. Games Developer: Games developers are also making tons of money nowadays. You can consider developing games for mobile devices, computers and other media devices.
28. SEO Consultant: SEO Consultants ensure that the websites of their clients can be more visible to search engines so that they can get adequate attention from potential customers and also make more sales.
29. Computer Set-up Service: It is not uncommon for people to purchase new computers and not understand how to set it up. A great business idea that you can make good money from is offering computer set-up services to other people.
30. Computer Refurbisher: A Computer Refurbisher purchases old or damaged computers and restores them to an almost-new state and then sells them for a smaller fee.
31. Tech Tutor: Another lucrative business idea to consider is becoming a tech tutor who teaches people how to repair, operate and set-up computers.
32. Computer Backup Service: People often need third-party sources for backing up their important data so that they don't end up losing it. You can make good money from selling such services.
33. Domain Reseller: Domain resellers purchase attractive domain names and expired domains and then resell them in the future for very impressive profits.
34. Web Content Provider: You can make money from providing articles, photos, videos and other relevant web contents to website and blog owners.
35. Desktop Publisher: Book publishing has not gone extinct and in fact, eBooks are becoming very popular nowadays. You can make good money from helping people print their hardcover or eBooks.
36. Computer Manufacturer: If you have a lot of money to invest, you can't go wrong with manufacturing your own computers for sale. You can even pick a niche and manufacture things like Children's computer.
37. Computer Accessories Seller or Manufacturer: You can manufacture or sell computer accessories like chargers, USB storage devices, mouse and so on.
38. Online Course Creator: Another lucrative business opportunity that is trending is creating and selling online courses. The world hasn't stopped being hungry for information and you can feed off this hunger by teaching hot topics to people through online course creation.
39. Email Marking Consultant: Business owners often need and pay good money to people to help them set up or manage their e-mail marketing campaigns.
40. Podcaster: Podcasts are in a strong competition with blogs these days and you can jump on the trend to make money for yourself by selling advert spaces on your podcasts.
41. Affiliate Marketer: You can also earn commission from promoting and selling other people's products as an affiliate marketer.
42. YouTube Personality: Those funny or informative videos that you watch on YouTube are not just being uploaded for fun. The people who upload them make very good money from Google Adsense adverts that are being placed on their channels.
43. E-commerce Seller: Amazon and e-Bay need no introduction. These organizations have made tons of money from their e-commerce businesses. Who says you can't compete with them too?
44. Tech Rentals Provider: People sometimes need to borrow computers, computer accessories and devices like projectors. You can set up a business that offers such services.
45. Tech Fair Founder: Another business opportunity to consider is setting up a Tech fair. You can make money from registration fees or gate fees that people would have to pay to get into the fair.
46. Tech Blogger: Blogging is a very lucrative business opportunity when you are able to choose the right niche. Tech blogging is a very lucrative niche that is not highly saturated like a lot of other niches and this is because tech blogging is a bit more technical.
47. Website Hosting: You can also make money from selling website hosting services to people who own websites or are looking to develop one.
48. Social Media Manager: You can create interesting contents and manage social media pages for business owners and high-profile individuals such as politicians.
49. eBook Author/Publisher: Another great idea that would make you a lot of passive income is to write and publish eBooks. You can also make money from offering eBook freelance writing services.
50. Music Studio: Music producers now make use of a lot of computer technology to produce and record music. You can make a lot of money from setting up such studios.